SOS relies on the kindness and generosity of Canadians to be able to provide a home for the most vulnerable children of Africa.
By becoming a child sponsor you are helping an individual child in need.
(You will receive a Canadian charitable tax receipt)
Tsumeb, a mining town half-way between Windhoek and the Angolan border, is the capital city of the Oshikoto region in northern Namibia.
The town is surrounded by dry, stony and almost treeless hills. The SOS Children's Village is situated on the outskirts of the town in a middle-class residential area and covers an area of 38.000 m².
The children attend the local schools, which greatly supports their integration into the local community. The official opening ceremony was held on 2 April 1998 in the presence of Helmut Kutin, president of SOS-Kinderdorf International, and numerous other guests of honour.
SOS Children's Village Tsumeb consists of ten family houses with a capacity for up to 100 children, houses for the village director and the SOS aunts (who support the SOS mothers and take care of the children when the mothers are on leave), an administration and service area, a workshop and a multi-purpose hall.
The SOS Kindergarten offers enough space for up to 100 children both from the SOS Children's Village and the neighbourhood and it comprises four group rooms, a kitchen and a playground. In order to meet the needs of the growing number of youths, an SOS Youth Facility was established, where up to 20 youngsters can stay during the time of their higher education or vocational training while their youth leaders help them to develop an independent lifestyle and to prepare for life outside the SOS Children's Village.
The family strengthening programme offers access to essential services for children's development (eg. educational, nutritional and health support, social skills) and supports families to protect and care for their children. The programme also aims at linking families with income generating activities and offers help to improve the parents' parenting skills.
Media
Image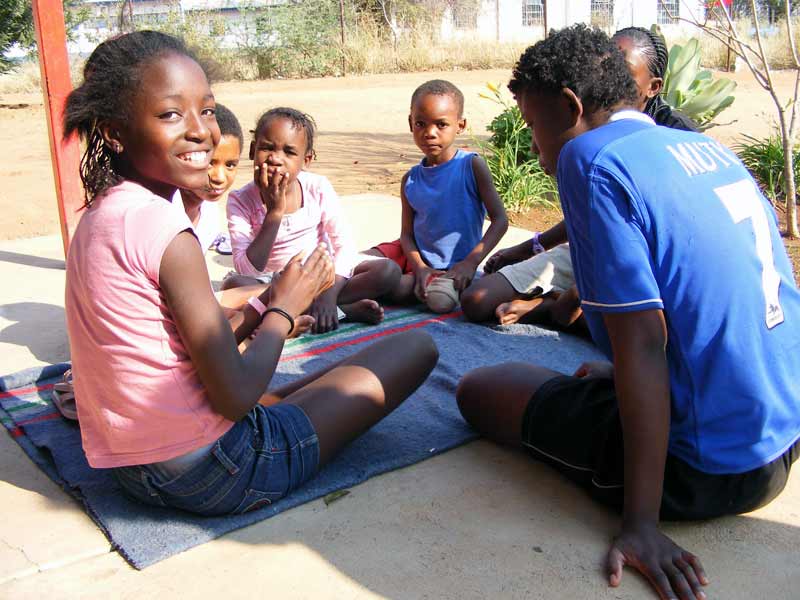 Our Impact

KINDERGARTENS
The SOS Kindergarten in Namibia are a fundamental building block for the early development needs including, intellectual and social skills for children.

SOCIAL CENTRES
SOS Social Centres in Namibia aim is to help families, in particular women and children, living in communities neighbouring the SOS Children's Villages to gradually escape from poverty, and to help young people become self-reliant.

VILLAGES
The SOS Children's Village in Namibia provides loving homes to orphaned and abandoned children
85
Orphaned and Abandoned Children

YOUTH FACILITIES
The SOS Youth Facilities in Namibia provides youth with a loving environment where they learn to transition into independent living and to expand their education
Our Impact
Image

The SOS Kindergarten in Namibia are a fundamental building block for the early development needs including, intellectual and social skills for children.

1

KINDERGARTENS

69

Kindergarten students

Image

SOS Social Centres in Namibia aim is to help families, in particular women and children, living in communities neighbouring the SOS Children's Villages to gradually escape from poverty, and to help young people become self-reliant.

1

SOCIAL CENTRES

494

Beneficiaries

Image

The SOS Children's Village in Namibia provides loving homes to orphaned and abandoned children

1

VILLAGES

85

Orphaned and Abandoned Children

Image

The SOS Youth Facilities in Namibia provides youth with a loving environment where they learn to transition into independent living and to expand their education

1

YOUTH FACILITIES

9

Youths in our Care