Impact of the polycrisis: how do we protect and care for children?
Multiple, simultaneous crises are occurring around the world, from the continuing effects of the COVID-19 pandemic and extreme cost-of-living pressures being felt by many, to the numerous complex and protracted wars, the climate crisis and natural disasters. Strongly interconnected, these overlapping situations have disastrous impacts on the most vulnerable. Children and young people –particularly those without or at risk of losing parental care – are often caught in the middle, facing dire consequences.
Working in more than 130 countries globally, SOS Children's Villages is present in many of the world's most difficult places where many factors, including war and violence, intersect to create extreme trauma. Many countries experiencing the worst effects of compounded crises are considered the most unstable. Somalia, for example, ranks highest on the International Rescue Committee 2023 Emergency Watchlist. Haiti, South Sudan, and Syria are also in the top ten.
"Polycrisis today is a significant factor disrupting the life of many communities around the world, not only in the poorest continent, Africa, but also in Asia, Latin America, and here in Europe," says Dr. Dereje Wordofa, President of SOS Children's Villages International. "When communities are affected, and societies are displaced, or going through hardship, children always remain the hardest hit because they are the most vulnerable segment of the population."
Image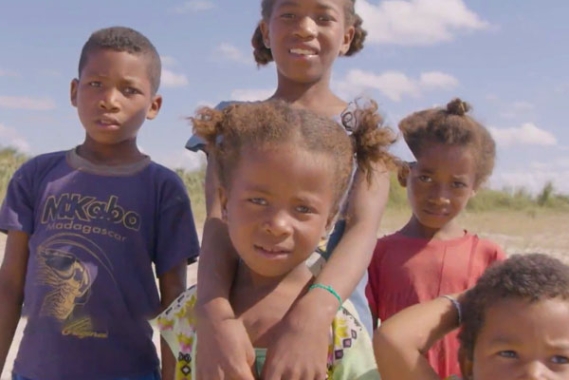 Studies show that over 2.4 billion children suffer from inequality, exclusion and deprivation and still need adequate social protection. The polycrisis has only worsened the historic disadvantages many children face. For example, the COVID-19 pandemic resulted in around 10.5 million children losing the care of an adult. 
The National Director for SOS Children's Villages Haiti, Faimy Carmelle Loiseau, is all too familiar with the struggle of caring for children and supporting families amid the chaos of multiple, layered crises. 
"Haiti had economic problems already. It had political problems. However, we used to live in peace. But now with insecurity, where you have gangs surrounding the city, this is different because even the government or the police department do not really know what to do," Ms. Loiseau says.
Haiti has a troubled political history and is prone to natural disasters. However, the current situation is unprecedented. A series of crises, starting with the assassination of President Jovenel Moïse in July 2021, have combined to create an intensely complex situation in which violence is spiralling and food poverty is soaring.
"Life is extremely difficult, especially for families who were facing hardship before this latest crisis," Ms. Loiseau explains. "Families with single parents, many of whom have no chance to find work in the current crisis, are struggling. They have no money to buy food or other necessities."
The country's economy has collapsed, and the restriction of access to food and water by armed groups, combined with high inflation and a lack of rain, has led to food scarcity. It is estimated that 4.7 million people – close to half the population –  struggle to get enough food. As often happens, those who bear the brunt of the impacts are children, particularly those who don't have parents or live in families at risk of breakdown.
Intensified threats to children

While an extreme example, what is happening in Haiti is not unique. Many countries are now experiencing interwoven and multi-layered catastrophes. Those worst affected by the polycrisis are communities already struggling with poverty, particularly the children who are most vulnerable. Dr. Wordofa states:
"Children without parental care or who are at risk of losing parental care are particularly impacted by multiple but also compounded crises. War and armed conflict are affecting many communities around the world, from Ukraine to Sudan, Ethiopia to Haiti, and the Democratic Republic of Congo. Drought and floods, which are induced by climate change, are also impacting people. And importantly, the economic hardship in many communities today because of hyperinflation and the high cost of living is another factor." 
Without a safe, loving and secure home environment and adults to protect them, entangled crises only increase the vulnerability of the children SOS Children's Villages supports. At the same time, the numerous additional stresses placed on families who are already at a breaking point make children susceptible to losing their parental care.
The overlaying crises in Haiti and elsewhere are having profound impacts on children. Children living away from the relative security of a family home, without an adult who is there for them, are often on the streets and are susceptible to violence. Young boys are particularly in danger of being recruited by armed gangs in Port-au-Prince. Ms. Loiseau explains:
 
"It's very difficult for them because the gangs have no mercy. Whether you're a woman. Whether you're a young person or an old person. Whatever they need to do, they will do it. A lot of gang members you find are young – adolescents and young kids."

Parts of the Horn of Africa, Sahel and neighbouring countries are experiencing their longest drought on record. Combined with insecurity and high inflation in many places has led to a severe food crisis across several regions. This emergency is impacting tens of millions of children and young people. In Central Sahel, it is estimated that more than 7 million  children will soon be suffering from severe hunger. Evidence shows that food insecurity leads to increased vulnerability for children. A lack of food can push children into begging and sexual exploitation, where girls face a higher risk of abuse, violence and harassment. 

"Somalia is a country facing the triple threats of prolonged drought and heightened food prices, ongoing armed conflict, and displacement leading to migration pressures," says Abdikadir Dakane, the National Director for SOS Children's Villages Somalia. In a country where the majority of the population are either farmers or herders, the change in weather patterns due to climate change has catastrophic consequences. The impacts are being felt the most keenly by children without parental care. 
"Children who have both parents alive tend to enjoy life with little worry," says Mr. Dakane. "But children who have only one parent alive, or don't have either parent, will be prone to a lot of violence and exploitation. You will see a lot of children who are on the streets, a lot of children who are working, and you will see a lot of children who are exploited. For example, you will find children who are recruited into armed groups and armed forces." 
Driving families apart
Layering natural disasters and food shortages on top of violent conflict and political or economic instability puts unbearable pressure on families already struggling to cope. In countries where poverty is rife, a loss of livelihood due to extreme weather events, displacement or violence, combined with inflationary pressures, means families can break down because parents simply cannot provide and care for their children. In Haiti, the additional pressure of an economic crisis and food scarcity brings families to a breaking point.
"You have big inflation – this also affects the family's possibility to get money. These parents were already poor. Some of them may have lost their jobs because many people have left the country. Many businesses have been closed, so if businesses close, then there's no work. Food prices have also become very high, so food insecurity is really high lately in the country."
Parts of northern Benin have faced increasing insecurity for several years. The violence perpetrated by armed groups particularly affects children and women. As well as experiencing one of the worst floods in recent memory in 2022, Benin is now also feeling the effects of the food crisis. Salimane Issifou, National Director for SOS Children's Villages Benin explains:
"Families in our country are suffering a lot because the price of every basic food type has skyrocketed, and this is making the lives of children and families very difficult. The price of sugar, for example, has doubled."
Child marriage on the rise
Such extreme economic pressures can force parents to make unimaginable choices. In several countries experiencing crises, families are marrying off their daughters at a young age or sending their children out to work to survive. In Somalia, girls as young as ten are getting married for the dowry money. In Bangladesh, where climate impacts overlap with extreme poverty and cost-of-living pressures, child marriage is also a significant problem.


Dr. Enamul Haque, National Director of SOS Children's Villages Bangladesh explains:
"In most of the southern part of the country, when it gets flooded, there is saline water everywhere. Because people have lost their families, parents have lost their properties and lost their lands, they don't have money to feed their children, and they don't have money for their education. So, they are forced into child labour. It's estimated that 1.7 million children are in the child labour situation. Also, it is estimated that 60% of the girls are getting married under 18, the highest in Asia, and 22% below eleven years of age."

In places experiencing war or extreme violence, many children have had one or both parents killed.  Displacement and migration ­– whether due to war, famine, natural disasters ­or a combination of factors – often results in children getting separated from their families. This is an issue in Somalia and Haiti, where many children have lost their parents due to gang violence.
"Many people have been displaced because they [the gangs] invade their neighbourhoods. When they leave their houses, either their parents get killed in front of them, or maybe they have to be separated from their parents. So either they are in the streets, or they move to another town, and sometimes the parent cannot go with their kids."
The war is taking its toll in Ukraine, with children being severely affected. An estimated 4.1 million children in Ukraine will require humanitarian support in 2023. Darya Kasyanova is the National Program Director for SOS Children's Villages Ukraine. Originally from Donetsk, she lost her home in 2014 and had to move more than seven times to find somewhere safe to live. She explains how the need to protect children in vulnerable and traumatic situations has multiplied.
"When we try now to compare the situation before the full invasion, it was only 1,000 children under the supervision of SOS Children's Villages Ukraine. And now, every month, it is about 25,000 beneficiaries. From the first day of the full-scale invasion, more than 494 children were killed, more than 6,000 children lost their families, and more than 19,000 children were deported to Russia."
Impacting children's health and access to education
One of the prevalent impacts of the polycrisis on children already at risk is the lack of access to education. Extreme weather events such as floods destroy schools; displaced children end up in new areas where they cannot enrol in school, or there is no school available, and economic pressures force children to leave education to work or get married. According to the UN, 222 million children worldwide are affected by crisis, impacting their education. This disruption to children's schooling has long-term consequences, trapping them in a cycle of poverty. 
The toll of manifold crises on vulnerable children's health is also a major issue. As Dr. Haque explains:
"Extreme temperatures have left many impoverished families with less food, less clean water, lower incomes and worsening health. Children's immune systems are still in development, and their rapidly growing bodies are more sensitive to disease and pollution." 
In addition to physical health concerns, mental health issues are prevalent in situations where multiple crises are at play, with many children experiencing extreme trauma. Ms. Loiseau discloses:
"When you see kids living in that situation, that's a very difficult situation. Kids seeing their parents or their neighbour being killed in front of them, people being burned in front of them. You know that in the future, those kids will have big mental health problems." 
Protecting children 
Amidst the chaos, in the places at the end of these multiple crises, are the adults working to protect and support the most vulnerable children and their families. Despite the many challenges, people are striving to provide a safe, secure and loving environment for the children and young people most at risk. 
Supplying the basics such as food and healthcare access is often an important start. In Haiti, some children come to the school run by SOS Children's Villages to get a meal. However, as well as physically protecting children, caring for them emotionally and supporting them psychologically is vital. Ms. Kasyanova explains: 
"The other very important direction for SOS Children's Villages [Ukraine] is mental health and psychological support."
In Bangladesh, many children suffer from mental health due to multiple crises. Counselling through professional psychologists is an essential part of the support provided to the children and their support network. While in Haiti, Ms. Loiseau and her team focus on creating a safe environment for the children in their care.
"We try to create a very friendly, safe area for them, so they can really feel safe. We try to make the children feel as though they can have a normal life – we send them to school, we put on fun activities for them. That's also why we have colleagues who are psychologists and social workers."
Supporting families
A crucial part of helping to prevent families from breaking down, particularly in such challenging circumstances, is to provide practical support. Supporting families to feed their children or develop new skills to secure an alternative source of income is a way of ensuring families can get back on their feet. 
"70% of families we work with have requested food support because they don't have the means to afford their own food," says Mr. Issifou of Benin. "We are now developing other means of helping those families grow their own food. For example, in our villages, we have connected our toilets to create biogas and to create fertilizers also to grow fish. Going to the market to buy a bottle of gas costs, let's say, ten euro. Instead of that, the families have their own gas from their toilet, and it's almost free of charge. At the same time, they can grow their fish, because with this system, we get worms that are used to feed fish."


In Bangladesh, the flooding has impacted those who formerly relied on fishing as their livelihood. Supporting people to retrain means they can once again provide for their families.
"We provide skills training to mothers and young girls so that they can earn money to help support their families. We equip them by giving them sewing training and some materialistic support so that they can produce some products and sell them in the market. In that way, we are supporting the community to build their resilience and improve their income generation," explains Dr. Haque. He recounts an example of a young person they have helped:  
"One boy was living in the slum area, where he had no hope.  He's had a lot of trouble, and we supported him. We gave him psychological, financial and material support so that he can dream big. Now he is a medical student – he can become a doctor who will be giving support to his own community, as well as Bangladesh as a whole."

Empowering and supporting communities, particularly the children themselves, helps build resilience for those experiencing the worst crises. Mr. Dakane outlines:


"If we invest in children and if we invest in protective mechanisms for children, if we focus on engaging with the communities – empowering them, educating them, raising their awareness, building good schools – and then, the government takes responsibility, and they will be held accountable. This will really help. Children in Somalia are generally smart – they are really quick learners. They pick up things very fast, and all they need is this kind of protective mechanism."
Media
Image