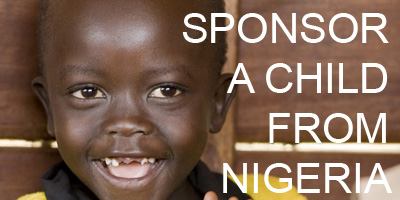 In oil-rich Nigeria, hundreds of thousands are living in crippling poverty.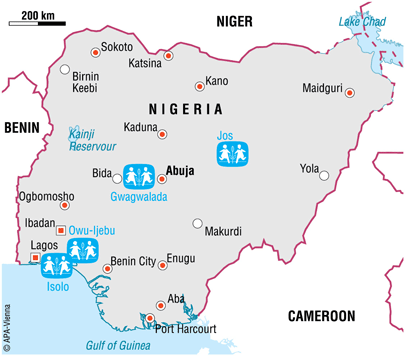 Crime rates continue to skyrocket and HIV/AIDS marks the lives of many.
Children are at risk in such a harsh socioeconomic environment.
SOS Children's Villages has been working to protect and support orphaned and abandoned children of Nigeria since the 1970s.
SOS Children's Villages in Nigeria currently operates:
4 SOS Children's Villages
4 SOS Youth Facilities
4 SOS Kindergartens
5 SOS Schools
1 SOS Vocational Training Centre
10 SOS Social Centres that run Family Strengthening Programs
In late 1980s, the national Nigerian SOS Children's Villages Association was founded as a legal entity, overseeing the activities of SOS Children's Villages in the country.
In 2003-2004, a community assistance project in the city centre of Lagos was set up. It provides the community with skills to master their own lives (First Aid, awareness, counselling and education, assistance for people affected by HIV/AIDS, empowerment of women etc.).
| | Orphaned Children | Infant Mortality | Child Poverty Rate | Child Malnutrition | Child Marriage | Girl Genital Mutilation |
| --- | --- | --- | --- | --- | --- | --- |
| Nigeria | 10,000,000 | | 46% | 36.40% | 42.80% | 24.80% |
| Canada | 45,000 | | 8.80% | #N/A | #N/A | #N/A |
377
Orphaned and Abandoned Children
678
Elementary and secondary students
236
Youth and adult students
Sponsor a Child in Nigeria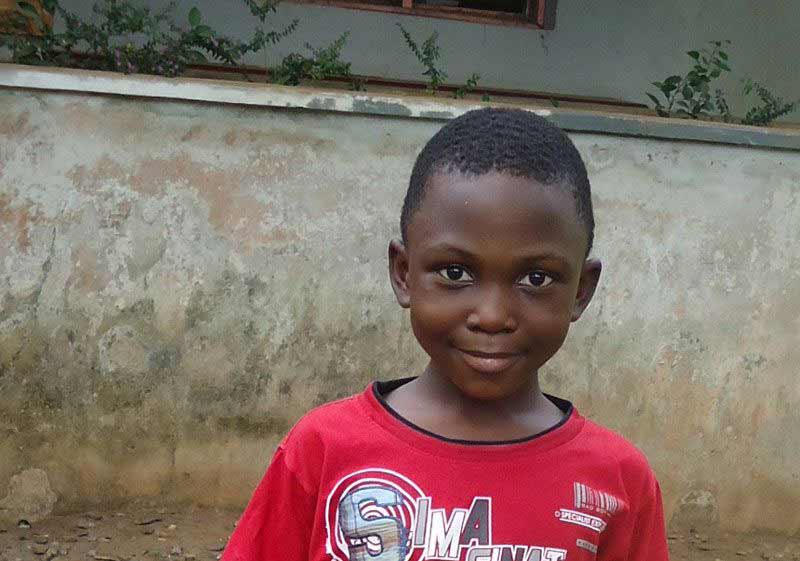 SOS relies on the kindness and generosity of Canadians to be able to provide a home for the most vulnerable children of Nigeria.
By becoming a child sponsor you are making a commitment to helping an individual child in need. Your gift will help provide a child with food, clothing, education and a loving SOS mother.
Please help us ensure a loving home for every Nigerian child. Sponsor a child in Nigeria now. Your donation will help change an orphaned or abandoned child's life.
Situation of the children in Nigeria
Around 15 million children under the age of 14 work in Nigeria, many of them under extremely hazardous conditions. They do so for little or no pay while missing out on a decent education.
The number of children engaged in labour activities has increased steadily since the 1970s, partly owing to the country's oil boom and high levels of poverty.
Children sell merchandise, shine shoes or wash feet in public spaces. Others work in agriculture or in the cotton industry where they are sometimes exposed to toxic fumes and dangerous machinery.
The number of orphaned children in the country has gone up to an estimated 12 million. Thousands roam the streets without having a place to sleep. They engage in petty crime or beg in order to survive.
In Nigeria, around 360,000 children live with HIV/AIDS.
The pandemic is one of the greatest threats to compliance with child rights.
Children whose parents are HIV-positive face multiple vulnerabilities, such as becoming infected themselves, the fear of losing parental care, social discrimination and neglect.
HIV/AIDS is a major cause of the deepening poverty in the country.
Human trafficking from Nigeria to Europe is another pressing issue.
Young Nigerian girls are trafficked to Western Europe every year. The majority of them are lured into commercial sex work with tales of riches in wealthy Europe. Experts say that child trafficking from Africa to Europe has become modern-day slavery.
Nigeria remains marked by a fairly high child mortality rate of 138 per 1,000 live births.
30 % of all Nigerian children under the age of five are underweight.
SOS Children's Villages support Nigerian children and young people by providing loving homes, day care, education and vocational training in seven different locations (Ejibgo, Gwagwalada, Ibadan, Isolo, Jos, Kaduna, and Owu-Ijebu).
In 2004, an SOS Family Strengthening Programme was launched in order to support children who are at risk of losing parental care and enable them to grow up in their own families.
Some facts about Nigeria
Nigeria is a country located in West Africa.
With a total population of roughly 158 million, Nigeria is now one of the world's most populous nations and by far the most populous on the African continent.
Over 24 Nigerian cities have a population that exceeds 100,000 inhabitants. However, owing to the HIV/AIDS pandemic, life expectancy is fairly low and mortality rates remain high.
Nigeria is rich in petroleum, natural gas, tin and coal. Fuels and mining products account for roughly 97 % of all exports.
More than half of its people live in crippling poverty.
Nigeria is a prime example of the "resource curse": oil has not only boosted the GDP but also the occurrence of violence through the distortion of the national economy.
Decades of oil production have not resulted in much needed sustainable socioeconomic development and better living conditions for the majority of Nigerians.
The current poverty rate actually exceeds that of the period before the first oil boom in the 1970s.
Nigeria has become a major transit point for heroin and cocaine intended for the European, North American and East Asian markets.
HIV/AIDS and high levels of poverty mark the lives of millions
Rich in natural resources, Nigeria has been hobbled by high crime rates, harsh socioeconomic conditions and political instability.
63 % of the population living in crippling poverty, vast parts of Nigeria have become increasingly crime-ridden and dangerous.
Many people in Nigeria continue to live in shacks, without access to sanitation, sewage systems and potable water.
Only 28 % of the population in rural areas have access to drinking water.
About 34 % of worldwide HIV infections are concentrated in only 10 African countries, including Nigeria.
The extent to which the disease marks the lives of the Nigerian people is beyond comparison.
Around 3.3 million are living with HIV/AIDS and 220,000 die from it every year.
The adult prevalence rate is as high as 3.6 % - one of the highest in the world.
Health professionals have noticed changing attitudes with regards to contraception.
In the predominantly Muslim north, contraceptive use has gone up as many religious leaders decided to use their influence to promote reproductive health - important in a country characterized by a fairly high fertility rate of 4.73 children per woman.