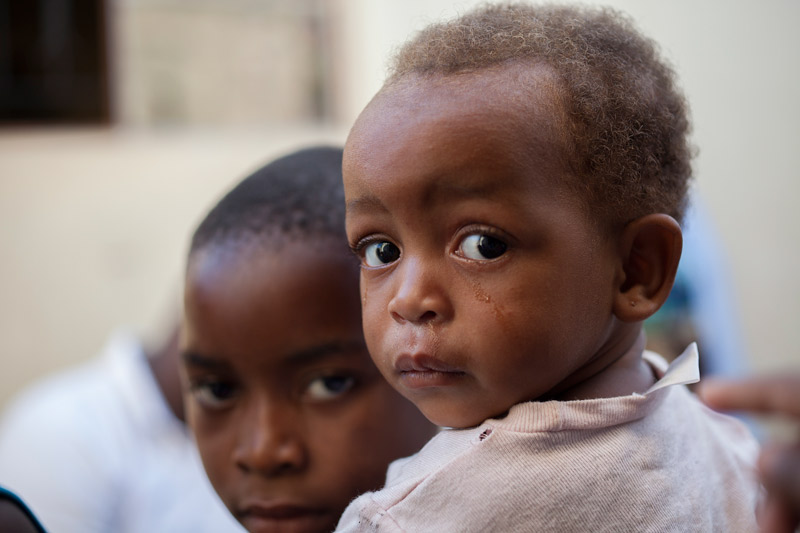 in Mozambique
In 1986, SOS Children's Villages started its work in Mozambique, at a time when the country was deeply immersed in civil war.
Apart from providing family-based care, the organisation's main aim has been to strengthen family ties. Numerous SOS Emergency Relief Programmes have been organised since the organisation became active in Mozambique.
At present, there are six SOS Children's Villages in Mozambique, three SOS Youth Facilities, five SOS Kindergartens, four SOS Hermann Gmeiner Schools, one SOS Mother and Staff Training Centre and eight SOS Social Centres. The SOS Villages which care for orphaned and abandoned children are located in Beira, Chimoio, Inhambane, Maputo, Pemba and Tete.
SOS Children's Villages in Mozambique
SOS Children's Villages became active in Mozambique in the year 1986. Tete was chosen as the location for the first SOS Children's Village.
Because of the threats that looming famine poses to Mozambican families, SOS Children's Villages has organised numerous emergency relief programmes in Mozambique in order to tackle food-shortages.
During the 1990s more aid programmes were carried out, mainly targeting undernourished children and their mothers, pregnant women and old people. They were provided with food and basic medical care.
When tropical storms devastated the Gaza and Maputo provinces in February 2000, SOS Children's Village Maputo distributed medicines to families in the neighbourhood and ensured a supply of drinking water.
At present, our organisation is supporting Mozambican young people and children by providing day care, education, medical services and vocational training in six different locations. Orphaned and abandoned children whose parents cannot take care of them will find a loving home in one of the SOS families.
| | Orphaned Children | Infant Mortality | Child Poverty Rate | Child Malnutrition | Child Marriage | HIV/Aids |
| --- | --- | --- | --- | --- | --- | --- |
| Mozambique | 2,100,000 | | 54.70% | 43.70% | 48.20% | 10.80% |
| Canada | 45,000 | | 8.80% | #N/A | #N/A | 0.2% |
712
Orphaned and Abandoned Children
1 083
Elementary and secondary students
Youth and adult students
Some facts about Mozambique
The Republic of Mozambique is a country situated in south-eastern Africa. A brutal civil war that lasted from 1977 to 1992, corruption, political mismanagement and natural disasters hindered development in Mozambique for a fairly long time.
In 1990, a new constitution was introduced, laying the path for free multiparty elections and a market-driven economy.
Today, Mozambique is considered a country of huge economic potential. In spite of the fact that the economy is still largely based on agriculture, untapped gas, oil and titanium reserves represent a growing source of income and continue to attract investors from abroad. The country's capital is Maputo, an important port city of 1.8 million.
Widespread poverty
Even for Sub-Saharan Africa standards, Mozambique is a very poor country. 80 per cent of its population live in crippling poverty. They are struggling to cover even their most basic needs, such as running water, proper sanitation and regular access to food.
The per capita GDP for Mozambique is one of the lowest in the world: around 50 per cent of Mozambicans have to get by on less than one US dollar per day.
Female-headed households are particularly affected by high levels of poverty as many Mozambican women are badly educated.
Income distribution remains highly unequal in a country where the richest ten per cent control roughly 40 per cent of the national household income.
A few years after peace could be secured in Mozambique, disastrous floods destroyed much of the country's infrastructure during a time in which it was slowly rebuilding itself. Rural Mozambique is frequently affected by droughts. Famine is widespread and many locals suffer from illnesses that are directly related to it.
For the average Mozambican, life expectancy at birth is as low as 48 years. The country has one of the highest HIV prevalence rates in the entire world: 11.5 per cent of the population are HIV-positive, meaning that roughly 1,400,000 Mozambicans are living with the disease.
Shortage of food is another significant problem in Mozambique. In 2010, massive riots broke out over rising bread prices. Due to international financial speculation, wheat prices were going up dramatically at the time. Consequently, the poorest segments of population found it even more difficult to put food on the table for their families.
Situation of the children in Mozambique
Mozambique is a strikingly young nation: Nearly half the country's population is under 14 years of age. Despite rapid and sustained improvements in terms of general economic development, many children are still facing a life full of hardships. Almost half of Mozambique's 10 million children are living in conditions of extreme poverty. In Maputo, where public services are generally more accessible, the number of poor children is noticeably lower than in rural areas of the country.
However, over recent years, more and more children have been growing up without parental care. Approximately one fourth of Mozambique's 2,100,000 orphans have lost their parents due to the persistent HIV/AIDS pandemic that the country has been facing.
Orphans are less likely to attend school on a regular basis as many of them have to engage in labour activities in order to eke out a living. Many orphaned children end up in the streets of major cities, where criminal activities, drug abuse and commercial sex work become part of their everyday life.
Like in most other Sub-Saharan countries, HIV remains a major public health issue. At 88 per 1,000 live births, the country's infant mortality rate is one of the highest in the entire world.
Although there have been impressive steps forward in terms of school enrolment, 24 per cent of children aged between 7 and 17 are still experiencing severe education deprivation. Hundreds of thousands of children in Mozambique never attend school.
At least a basic level of education is of considerable importance for growth and development and empowers the child to break the vicious circle of poverty when becoming an adult.
How you can help
For about a dollar a day you can help orphaned and abandoned children in Mozambique by becoming a child sponsor. Give orphans in Mozambique a home by sponsoring a child today.