Children in Sri Lanka's Northern Province are still suffering from the country's violent past. The civil war affected hundreds of thousands of people; families fled in search of safety, leaving their homes and livelihoods behind. SOS Children's Villages provided support in these times of need and we continue to help families rebuild their lives.

in Jaffna, Sri Lanka
What we do in Jaffna
The SOS Children's Village in Jaffna is currently providing loving homes to 100 orphaned and abandoned children. Every child is cared for by an SOS mother and is provided with all the necessities to make a happy childhood.
The SOS Family Strengthening Program supports families who are at risk of breaking down. In cooperation with local authorities and partners, we work directly with families and communities. We provide food for those who are malnourished and ensure that children can go to school or get medical care. To help parents improve their situation, we offer counselling, and training on income-generating skills.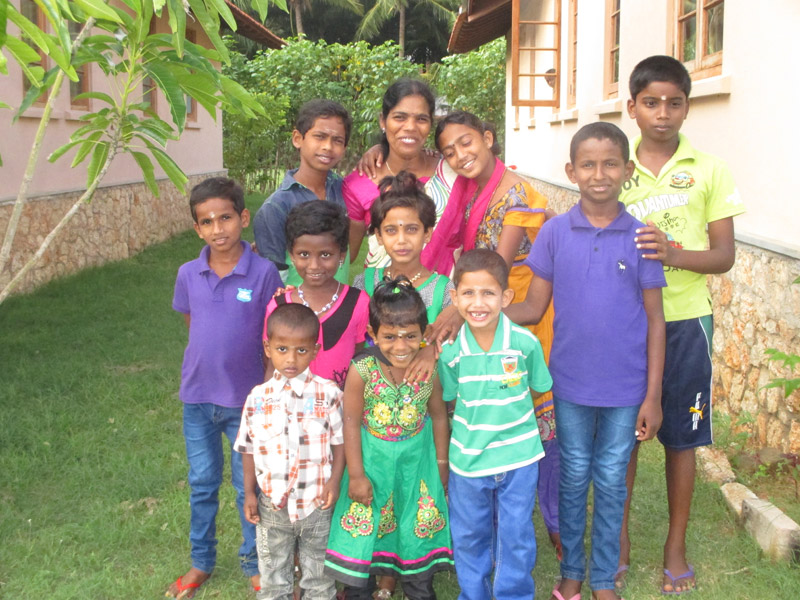 Children who have lost parental care can move into one of the twelve SOS families, where children grow up with their brothers and sisters and their SOS mother.
Young children go to the SOS Kindergarten alongside children from the neighbourhood. As they grow older, they attend the local schools - this ensures that they make friends and integrate into the community.
Once the young people are ready to leave their SOS families, they usually move into shared houses while they continue their studies. Qualified SOS counsellors guide them as they learn to live independently.
75
Orphaned and Abandoned Children
Kindergarten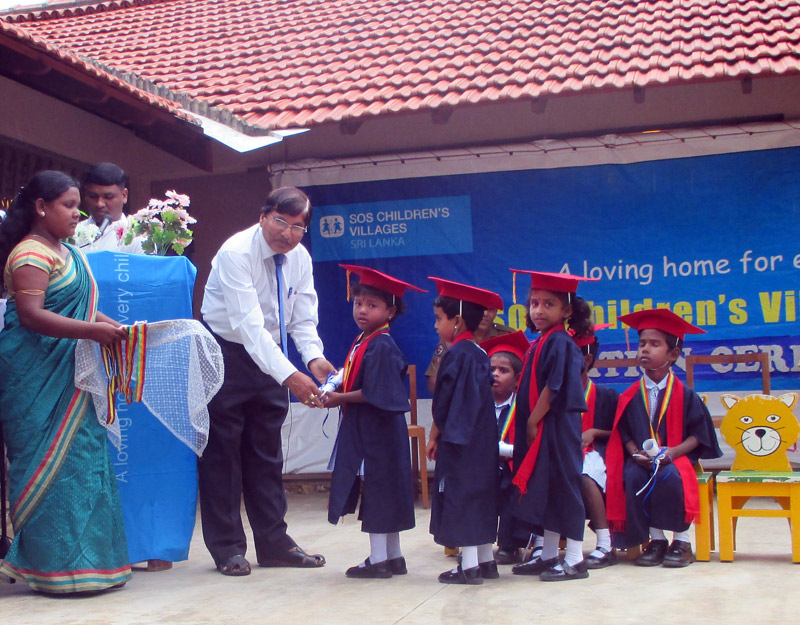 There are 50 children on the Kindergarten roll in upper and lower classes out of which six children are from the Children's Village. The rest of the 45 children are from below poverty line (BPL) families along the area in Nayanmarkaddu. The Kindergarten conducts programmes in Tamil medium in compliance with the stipulated government standard syllabus which include many learning activities.
All the traditional activities featured prominently in the festivities with the kids participating with great enthusiasm. Annual Sports meet was held on 16th of Oct 2014.During the year the children visited Subramanian Park, Post Office, Vihara and public market. After this visit the children shared their experience and knowledge in the Village. The children's progresses which are individually monitored throughout the year were discussed at all parent-teacher meetings.
Family Strengthening Program
There are 39 families under the Family Strengthening Program. Out of those 39 families, there are 121 children of whom 56 are Girls and 65 are Boys. Forty five children from the families in Family Strengthening Program attend SOS kindergarten. Our plan is to increase the number of beneficiary children to 300 by 2015. The families are selected on the basis of being below the poverty line. Most families do not own their houses but are living in temporary tents in the common cemetery. In one family there are about 6 to 7 children.
The services which are being provided to Benefiary Families
Providing counselling to Parents
Providing counselling to young children
Providing extra tuition classes in the evenings and weekend
Providing a meal and snacks during the educational classes
Educators of Family Strengthening Programme maintain a close relationship with the children to support them with regard to difficulties they are facing in school work
Providing knowledge relevant to certain skills which they could use to build up or start their own business
An area devastated by decades of fighting

Before the civil war, the historic town of Jaffna was a bustling economic centre. However, its port, one of the main sources of income and employment in the past, is now largely abandoned. In 2013, the reconstructed fishing port was opened; this now provides a living to around 700 fishing families who have returned to the area. But other industries continue to suffer. The infrastructure was damaged during the war, and although the rebuilding of roads and railways connecting Jaffna to the rest of the island is underway, it is far from complete.
Many families are struggling to survive in this new environment. Some of those who left due to the fighting have returned to their town of origin, but their homes and livelihoods have been destroyed. The task of rebuilding their lives needs time and resources.
The Northern Province has one of the highest number of vulnerable children in Sri Lanka. Many have no parental care; 41 per cent have lost one or both parents during the war. Even when parents are alive, many children are at risk. The most vulnerable children include those living with single parents or in child-headed households. Children born to rape victims, teenage mothers and out of wedlock often end up in care, because the mothers are not given the necessary support that would allow them to care for their children.
The rates of child labour are also high in the area. Children often stop going to school, so that they can go out to earn a living - many work as domestic servants or in the family business.
From emergency relief to sustainable support for the community
In 2009, we started an SOS Emergency Relief Programme in the Cheddikulam Camp for internally displaced people near Vavuniya. Due to the decades of civil war, many children had lost parental care; we provided them with medical and psychological attention. When the conflict ended, some children were reunited with their families but others remained in our care. Since then, we have worked with the local authorities and established ways of offering long-term support to families and children in need.