Bulgarian Migrants and Refugees - New Program for Unaccompanied Children
Tuesday, October 31, 2017
Image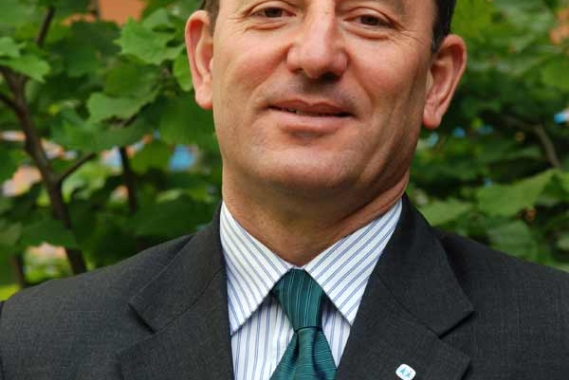 SOS Children's Villages Bulgaria is launching an emergency program to care for unaccompanied children, becoming the sixth SOS association in Southern and Central Europe (after Greece, Hungary, Italy, FYR Macedonia and Serbia) to respond to the needs of refugee and migrant children.
A 16-year-old boy from Afghanistan in October became the first unaccompanied child to live at an SOS youth home in Sofia. In addition to caring for children at the youth home, SOS Bulgaria is considering the establishment of two group homes and working with partners to provide care for a total of more than 20 children. Bulgaria currently hosts around 300 unaccompanied children and adolescents.
"We want to be in a position to offer these children a place in our youth facilities or other homes", says Plamen Stoyanov, National Director of SOS Bulgaria.
In the following interview, Mr Stoyanov talks about how to help unaccompanied refugee children in the country.
Q:  There are deep political divisions in many European countries over the refugee situation. Does this affect your work?
A:  In Bulgaria, as is true across Europe, there are differing opinions about refugees. It is not our role to judge people's opinions. But as a children's organization, we have to stand behind these children who come to our country for whatever reason, regardless of their nationality, and offer them the opportunity to have a happy childhood. They need care and support, and they need someone to stand behind them and to protect their rights. That's what SOS Children's Villages does, and that's what we will continue to do.
Q:  What are your plans for providing care for unaccompanied refugee and migrant children?
A:  There are about 315 unaccompanied children in Bulgaria at the moment, nearly all of them boys, though around nine of them girls. Many of them want to move on to join relatives in Germany or other Western European countries. They see Bulgaria as a temporary place and don't want to learn the language.
We want to be in a position to offer these children a place in our youth facilities or other homes until they can re-join family members. One option under consideration is to train some of our network of foster parents who could take some of these children into their homes. We may eventually expand our foster parent network, for instance by looking for those who come from Middle Eastern countries and who settled in Bulgaria decades ago. They can help the children learn about the country and the Bulgarian language.
The International Organization for Migration is planning to establish a youth home for unaccompanied children in Bulgaria. We are considering the possibility of working with the IOM to provide the care for the children in this home. SOS Children's Villages could provide the experience and the know-how on how to care for children.
Also under consideration is the establishment of two small group homes with a capacity of eight children each and training the caregivers for these homes.
Q:  What role can SOS Children's Villages play in addressing the needs of the children?
A:  There are other NGOs and international organizations working in the refugee centres, and at the moment they are able to meet the needs of families and children. In our discussions with the state authorities and the UN agencies, it became clear that there was a need to help unaccompanied children who have been given refugee status or who have been refused such status. In both cases, they have to leave the refugee centres. Those who are alone and do not receive refugee status cannot be turned back to their home countries until they reach 18, so they need temporary care.
We are now caring for a 16-year-old boy from Afghanistan at our youth centre in Sofia. He is not able to return to his home country and one of his relatives living in Europe is not willing to take the child. While it is going fine, we still face challenges in caring for him. One barrier is language. He wants to attend school but has learned very little Bulgarian. We will provide additional lessons to help him learn the language. We believe this will help him integrate more quickly into his new home and the country.
Q:  What else can be done to help these young people?
A:  Besides the care and protection that are at the heart of what SOS Children's Villages does, we want to help these children and adolescents attend school, learn the language and give both the boys and girls the opportunity to learn a skill. This will help them, whether they stay in Bulgaria, move to another European country, or someday return to their home country.
Q:  Bulgaria has been less affected by the refugee situation over the past two years than other countries in Southern and Central Europe. Is this changing?
A:  For the moment the situation is stable and other NGOs are addressing the day-to-day needs in the refugee centres. Our focus is to support those children who are unaccompanied by parents or relatives and who cannot stay in the refugee centres.
But we have made preparations in case there is a big wave of refugees so we can respond quickly to the needs of children and families. We have already been helping where and when there is a need. In the course of the year we provided school supplies, school bags and sports equipment for refugee children who are entering school. We have also provided milk, diapers, clothing and other supplies for babies. Last winter we distributed winter clothing and we want to do that again this year. Many of these children don't have suitable clothing for a Bulgarian winter.
That said, there are challenges in addressing the longer-term needs of the children and adolescents. There is constant movement at the refugee centres – some children are able to reunite with family members, some find their own way to move on. It is not easy to keep a long-term perspective.
Background
According to the UNHCR, more than 17,000 people sought refuge in Bulgaria in 2016, many of them fleeing conflicts in the Middle East. SOS Children's Villages Bulgaria is considering the following as part of its emergency response for unaccompanied refugee children:
Opening to two group homes with a capacity of eight children each. Staff will include social workers, educational and psychological experts, interpreters and language teachers.
Accommodating up to five unaccompanied children in SOS foster families and up to three children in existing SOS Children's Village youth facilities.
Providing training to current and new staff to care for migrant and refugee children.
Leading initiatives to improve acceptance of refugee and migrant children in the local communities and neighbourhoods where SOS Children's Villages youth facilities are located.
Learn more about SOS Children's Villages' response to the European migrant crisis.