SOS Children's Villages started its work in Bulgaria in 1990, when the organisation signed an agreement with the Bulgarian Health Ministry. The organisation now works with local children and their families in and around Sofia, Dren and Trjavna. At present there are two SOS Children's Villages in Bulgaria, two SOS Youth Facilities, and four SOS Social Centres.
SOS Children's Villages in Bulgaria
SOS Children's Villages has responded to the needs of children, young people and families in Bulgaria. The organisation has adapted its work, providing emergency aid as well as permanent assistance. For example, when the conditions for the population were at their worst in 1996 and 1997, the organisation distributed food packages, baby clothes and winter clothing.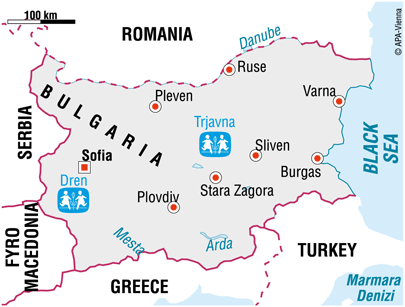 At present SOS Children's Villages is working in three locations. The social centres work with the local communities and agencies to support children and their families so that the children can grow up within a caring family environment. They provide day-care, counselling and psychological support and access to essential health services. When children can no longer live with their families, they can be cared for by SOS mothers. SOS also provides semi-independent housing for young people- these flats are located near to training facilities which young people can attend.
| | Orphaned Children | Infant Mortality | Child Poverty Rate | Child Malnutrition | Average Lifespan | Unemployment Rate |
| --- | --- | --- | --- | --- | --- | --- |
| Bulgaria | 20,000 | | 21% | 8.80% | 75 | 12.90% |
| Canada | 45,000 | | 8.80% | #N/A | 82 | 7.10% |
105
Orphaned and Abandoned Children
Some facts about Bulgaria
Bulgaria is situated in Southeast Europe, in the eastern part of the Balkan Peninsula.
Neighbouring countries in the south are Turkey and Greece, and to the west are Serbia and the Former Yugoslav Republic of Macedonia. To the north it borders on Rumania and the eastern frontier borders in the Black Sea.
Bulgaria, formerly part of the Eastern Bloc, is EU member since 2007.
There are approximately seven million people living in Bulgaria. The capital, Sofia, is located in the west of the country and has 1.1 million inhabitants. The population consists mostly of ethnic Bulgarians, with Turks and Roma being the largest minorities. Over the past decade, Bulgaria has experienced a decrease in the number of the population. There is a very low birth rate, the population is aging and economic changes have forced people to emigrate in search of employment. Children under the age of 14 account for about 14 per cent of the population; however, there has been a relative decrease in recent times.
One of the poorest countries in the European Union
Bulgaria remains one of the poorest countries within the EU, and its population has a low standard of living. Approximately a fifth of the population lives under the nationally established poverty line. The unemployment rate is nine per cent, with young people, people over 50 years of age and the Roma being the worst affected groups. Most people work in the service sector, followed by industry, and seven per cent work in agriculture.
Corruption and organised crime have delayed Bulgaria's development. Bulgaria has one of the worst health care systems in Europe. Access is particularly restricted in rural areas.
Situation of the children in Bulgaria
The radical economic and political changes of the last 20 years have negatively affected children's rights in Bulgaria. Although the UN Convention on the Rights of the Child was signed in 1991, it took ten years before national legislation was approved. Much of this legislation has yet to be fully implemented. As a result Bulgaria has a very high number of children who do not live with their biological family.
The child protection system is outdated. Despite recent measures to provide families and communities with support or alternative services for childcare, there are still a high number of children who are altogether removed from their family and placed in specialised institutions. This is particularly true of children with mental or physical disabilities. The conditions in these institutions are far from ideal – they are big institutions and architecturally old-fashioned. If children have to stay at such an institution for more than a year, this is considered very risky for their future development. The government has introduced a policy of deinstitutionalisation which aims to shut down all these antiquated institutions by the year 2025.
Particularly worrying is the fact that, in the last few years, an increasing number of children drop out of school or never start school. This is mostly the case for children from families with low social status.
Recent estimates report between 2,500 and 4,000 street children. Most of the children are from Roma backgrounds. The children survive by begging, gathering garbage, washing windshields at traffic lights or playing instruments. Some children are involved in theft and prostitution. These children do not attend school, they are malnourished, and are subjected to violence and abuse.