Vietnam was one of the first countries where the SOS Children's Villages model of family-based care for children in need was implemented. We began our work here in the 1960s and have been expanding our programmes across the country ever since.
What we do in Dong Hoi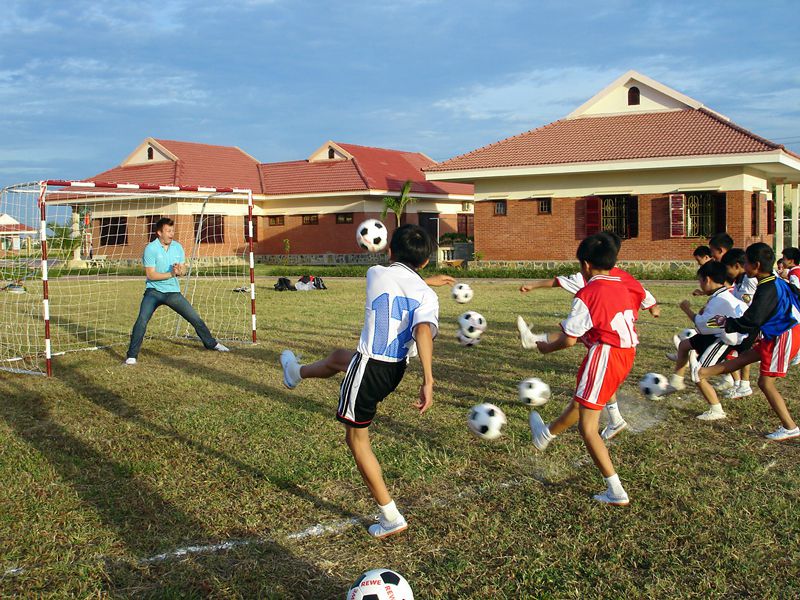 SOS Children's Villages began its work in Dong Hoi in 2006 due to the great need for family-based care in the region. The idea to start supporting children here came from the Paris-based association Aide à l'Enfance du Vietnam (AEVN), an association that has helped Vietnamese children in need in various countries. The local authorities donated a piece of land and, thanks to donations raised by AEVN and SOS Children's Villages France, the first family homes were built.
At present, twelve SOS families can provide a loving home for up to 120 children from the region. In each family, the children live with their brothers and sisters, affectionately cared for by their SOS mother. Where possible, we also make sure that the children can stay in touch with their birth parents if this is in the best interest of the child.
The children go to the SOS Kindergarten together with children from the neighbourhood, ensuring that they make friends and are integrated into their local community. Up to 180 children attend the kindergarten. The children then go on to complete their education at local schools.
117
Orphaned and Abandoned Children
Women and girls are vulnerable to exploitation
Đồng Hới is located on the north-central coast of Vietnam and has twelve kilometres of white sandy beaches. It is the capital of Quảng Bình province, with a population of over 100,000. The city's economy has been growing rapidly over the last years, with the service sector being the most important source of income for the population.
Nevertheless, Quang Binh remains one of the poorest provinces in the country, with an average per capita income of just 400 US dollars, as compared to the national average of 700 US dollars. Many young people therefore migrate to other parts of the country in search of opportunity. A great number of Vietnamese also migrate abroad to work: in total, around 500,000 Vietnamese are estimated to be living in other countries.
Women and girls are also vulnerable to being trafficked and sexually exploited. Often, they are promised lucrative jobs, for example in a factory in a city, but end up being forced to work in the sex trade. For example, it is estimated that up to 60 per cent of the 45,000 prostitutes working in Cambodia's capital city Phnom Penh are Vietnamese, according to a UNICEF report. Furthermore, when parents migrate their children are often left behind in the care of relatives, where they are not always sufficiently protected.
Mothers often struggle to protect their children
Poverty levels are highest amongst Quang Binh's ethnic minorities: there are 24 ethnic groups in the province, and 23 of them live in remote mountainous areas. Their lives are marked by poverty, illiteracy, high levels of malnutrition and disease, as well as poor access to basic services. Not only are these living conditions difficult, they also make families very vulnerable to a number of risks: the United States has repeatedly expressed serious concerns about inter-country adoptions in Vietnam. Noted "irregularities" in adoption processes have included cases where poor, illiterate mothers were made to sign documents, relinquishing all rights to their children.
When parents are struggling to provide for their children, they sometimes want to put them into temporary care until their situation has improved – if parents are deceived, the children could be at-risk of being adopted and sent abroad. In addition, mothers may sometimes be persuaded that their children will be better off living abroad with a foreign family.